Crafting Resistance: The art of Chilean political prisoners
26 January, 2018 – 16 February, 2018
University of East London: Refugee Council Archive, Docklands Campus.
An exhibition co-curated by Jasmine Gideon, Birkbeck, University of London, and Gloria Miqueles, Chilean ex-political prisoner.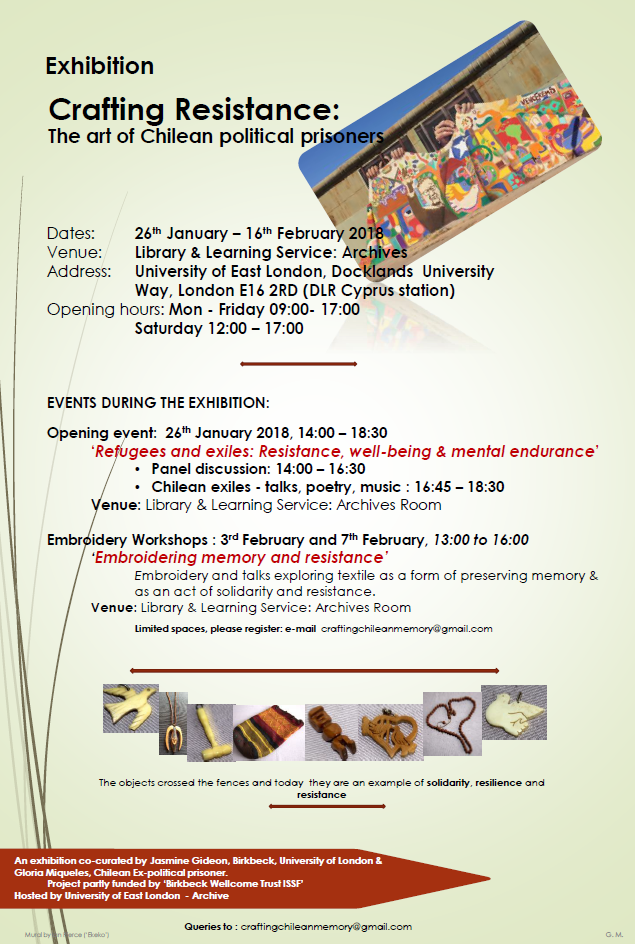 Crafting Resistance challenged the idea of political prisoners as 'passive victims' which fails to recognise the degree of agency many prisoners retain despite the horrific circumstances they endure. During the military dictatorship of General Pinochet in Chile (1973-1990) hundreds of political prisoners were held in concentration camps throughout the country. In a number of these camps, prisoners organised themselves and crafted items from the very limited materials and improvised tools available to them. The exhibition brought together a collection of these artefacts and reflected on their importance in relation to sustaining the mental health and wellbeing of those incarcerated. These artefacts are now testimony to the mental endurance of all those who were political prisoners under the Pinochet regime.
Exhibitors have collaborated with the Refugee Council Archive and the Refugee Mental Health and Wellbeing Portal for Refugees, Asylum Seekers and Health and Social Care Professionals here at the University of East London and previously collaborated with colleagues at the University of Warwick, including the 'Chilean Exiles in the UK', an AHRC funded project led by Professor Alison Ribeiro de Menezes and Professor John King with the World University Service to explore the role of UK groups and activists in assisting refugees and exiles after the fall of Allende in 1973. The exhibition was displayed in the Modern Records Centre, University of Warwick, in late 2017.
Photograph: Mural in 3 and 4 Alamos, one of the concentration camps of Pinochet's dictatorship, made by muralist Ian Pierce (aka "Ekeko").
Embroidery Workshops: Saturday 3rd February and Wednesday, 7th February, 1pm-4pm on "Embroidering memory and resistance." Embroidery and talks exploring textile as a form of preserving memory and as an act of solidarity and resistance. Workshops facilitated by Jimena Pardo.
Location: UEL Docklands Campus and Booking Via Eventbrite: Saturday Workshop and Wednesday Workshop.
For any questions, please contact the UEL Archivist Paul Dudman, on 020 8223 7676 or via email at p.v.dudman@uel.ac.uk.